Cumbria gears up for 2012 Olympics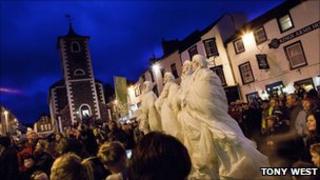 With one year to go, Cumbria is gearing up for the London 2012 Games with a range of activities around the county.
The Lakes Alive project, which is part of Northwest Cultural Legacy, has seen many events taking place in the county while many more are planned.
The events generated more than £3m for the local economy and brought more than 10,000 extra people to the county in 2010, organisers say.
Forthcoming events include an aerial show above the harbour in Maryport.
Many Cumbrian residents are also preparing to play a key role in the 2012 Olympics.
Alan Bell from Carlisle, will be the chief starter at the Games and have responsibility for many of the track and field events.
Meanwhile, training by many Cumbrian Olympic hopefuls is in full swing.
Alan Wills from Frizington, in west Cumbria, is one of those hoping to be at the London Games.
He represented the United Kingdom at the Beijing Olympics in 2008 and competed in the 2007 archery World Cup in Dubai.
Residents are also being recruited to help carry the Olympic flame as it makes its way through the county.
The torch will visit Carlisle and Bowness as part of the nationwide tour in June 2012.