Great Corby flood-hit bridge to be replaced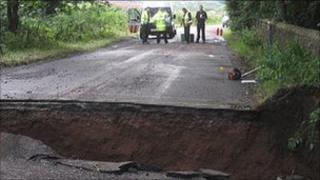 A bridge in a Cumbrian village has been damaged beyond repair by flash flooding, engineers say.
Stoneybeck Bridge on the way into Great Corby, near Carlisle, suffered major structural damage on Sunday.
Cumbria County Council said it would need to be replaced and was looking at installing a temporary structure.
Gas has been restored to most of the 200 homes which lost supplies when a main was damaged in the bridge collapse.
Engineers from Northern Gas Networks built a temporary structure to carry a gas pipe over the river.
People have been warned to keep clear of the damaged bridge and temporary structure.
Bridge inspected
The council is planning to install a temporary single carriageway metal bridge so the road can be reopened.
Diversions have been set up while the road remains closed.
The council said the bridge was last inspected in June 2010 as part of a routine check-up and there had been no concerns about its structural stability.
The cabinet member responsible for highways, Councillor Tony Markley, said the council was treating the situation as a priority but it was too early to give a timescale.
He said: "I appreciate that this is an inconvenience for people living in the area but, thankfully, the diversions aren't too long and the feedback we're receiving is that people are managing to go about their usual business without too much disruption."
The council said the road from the A69 to Wetheral had suffered erosion along the river bank and would need to be repaired. Traffic lights have been set up to keep vehicles away from the road edge.