Harlequins' star Purdham explains decison to leave club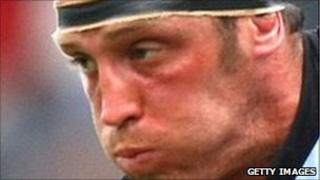 Rugby league star Rob Purdham has explained his decision to return to Cumbria after his brother was shot dead by gunman Derrick Bird.
Garry Purdham, 31, was killed in the shooting rampage in June last year.
His brother, the Harlequins captain Rob Purdham, announced on Friday he would leave the club to return to Cumbria at the end of the season.
He said it had been a big decision but the main factor was family reasons after losing his brother.
Mr Purdham was a semi-professional rugby league player and a farmer and was shot as he trimmed hedges near Gosforth on 2 June. He was Bird's ninth victim.
His brother, 31, is in his testimonial year and has spent 10 years in London playing Super League.
He said: "Over the last 10 years I have missed a lot of family life and especially what has happened in the last 18 months and two years it makes you realise how much you have missed."
He said his brother's death had been a huge loss for the family.
"It is someone we are never going to get back and his life was cut short by a long, long way and I missed 10 years of it when I was away in London", he said.
"I missed him growing up with his children and things like that so it does make you realise how much you have missed with some parts of your family."
He said the decision taken by him and his wife to leave London had been "massive" because he had loved playing there.
But he said: "Some things are just too important."
As far as his future goes he said he still planned to play rugby but had made no firm plans.