Project starts to bury cables in north Cumbria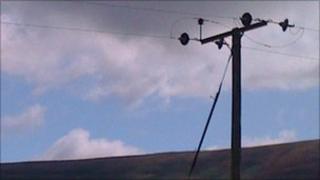 A project to remove electricity poles from an area of outstanding natural beauty in Cumbria has begun.
The work at Castle Carrock, near Carlisle, will see 22 electricity poles removed and replaced by 1.24 miles (2km) of underground cables.
The move is part of a five-year, £5.4m project by Electricity North West to remove visually intrusive cables in the North West.
Castle Carrock is in the North Pennines Area of Outstanding Natural Beauty.
Natural England and English Heritage have been consulted prior to the start of work.
Eddie Hamilton from Electricity North West said: "The aim is to cause as little disruption to supplies and people travelling along the route as possible."
Work is due to start this week and is scheduled to be completed by the end of the year.