Cumbria County Council doubles its winter salt stocks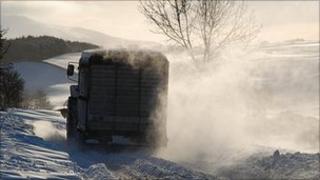 More salt is being held in reserve to spread on Cumbrian roads this winter.
The county council will spend £25,000 on temporary storage facilities for additional salt at the Lillyhall and Skirsgill depots.
They will hold an extra 20,000 tonnes, taking overall capacity to more than 43,000 tonnes, almost double the council's previous reserves.
A council spokesman said it might seem odd to prepare for winter at the height of summer, but it paid to plan ahead.
It follows the exceptionally harsh conditions experienced in the past two winters, when stocks of road salt were stretched to the limit.
The council has now agreed to set aside almost £4m for winter maintenance - a figure calculated by taking the average spend over the last seven years.
Tony Markley, cabinet member responsible for highways, said: "It seems odd talking about gritting roads when we're in the height of summer, but it pays to plan ahead.
"I'm delighted that we have had a good look at the way we grit our roads and the way we store and supply our salt so that we can make the system even more efficient and effective."