Warning after fire at Carlisle's Central Plaza Hotel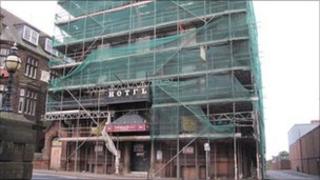 People have been warned not to enter a derelict hotel in Carlisle which was badly damaged in a fire.
An investigation is under way into the cause of the incident at the former Crown Plaza Hotel on 25 July.
While the building is structurally stable, the interior has been assessed as extremely dangerous due to missing floors and partial ceiling collapses.
The council is attempting to make the property, which has been surrounded by scaffolding for years, secure.
Forensic investigations into the fire, which started in the main stairwell, are continuing.