Make-up mirror helps rescue Cumbrian climber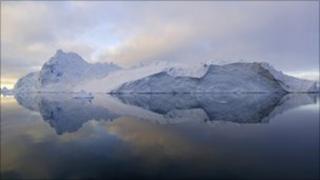 A mountaineer from Cumbria has told how he used a make-up mirror to signal for help when he became marooned in Greenland.
Eric Parker, from Penrith was part of a five-man team in Greenland hoping to participate in ice climbing.
The party of five became cut off from their camp, after warm weather caused ice to melt.
Using a make-up mirror, foil blanket and a rifle, they attracted the attention from a passing helicopter.
Mr Parker and Ron Kenyon, both from Penrith in North Cumbria, were part of a team that set off for Greenland two weeks ago. The trip was arranged with help from the Scottish Mountaineering Club.
Rising river levels, due to melting glacial water cut the team off from their base camp.
Mr Parker said: "The river levels were not dropping in the evenings, we presume it was not freezing at night, so the water was getting higher and higher.
"One member of the party almost got washed away and got bowled over with his rucksack on in the river and his legs and arms got trashed with the silt and stones."
In need of rescue, having limited food supplies and a broken satellite telephone the men tried to attract the attention of a passing helicopter.
Using a small mirror purchased at the airport on their way to Greenland, a foil blanket and a rifle, with only five bullets, it took about 15 minutes to attract the attention of the helicopter crew.
The Austrian crew flew over to where the Mr Parker was and agreed to lift the team off the ice the following morning.
Mr Parker and the rest of the party were airlifted to a mining camp about one hour away.
Ruth Parker, Mr Parker's wife said, before the return of the team to the UK: "They have not done what they set out to achieve, so that is a bit worrying really, because he may want to go again."
The team have all returned safely back to the UK.