Whitehaven car scratcher 'causes £56,000 damage'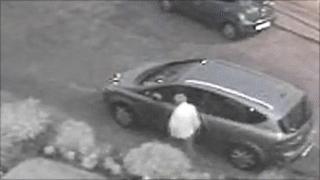 A serial car scratcher is being blamed for causing £56,000 of damage to vehicles in Cumbria.
Cumbria Police have issued CCTV footage of the suspect, who detectives believe has attacked more than 100 vehicles in Workington over the last two years.
Officers have carried out hundreds of hours of patrols in an effort to catch the man.
A resident filmed damage being caused in the Hensingham Road area.
Insp Craig Lory said: "This is mindless damage that has left the local community angry and faced with large repair bills.
"Residents have no idea why this damage is being caused and we need to trace the man captured in the footage.
"Tackling this issue and finding whoever is responsible for these crimes has become our number one priority in the area.
"But because of the nature of this crime series, it is particularly difficult to catch someone in the act.
"This senseless crime has caused a great deal of distress and I hope local people will support us and come forward with information so that we can put a stop to it."
The man is is described as white, medium to large build with grey or white hair and believed to be in his 50s.