Skills gap fear over Sellafield MOX closure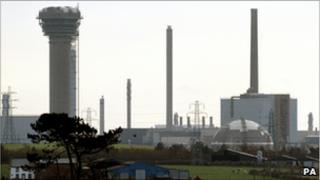 West Cumbria could face a skills gap with the closure of a nuclear fuel manufacturing plant, councillors fear.
More than 600 jobs are at risk, after the MOX facility at the Sellafield complex was deemed not to be viable.
The plant, which recycles plutonium into mixed oxide fuel, was dependent on Japan's sunami-hit nuclear industry.
Cumbria County Council has urged the government to make a decision on a new-generation MOX plant soon to prevent skilled workers leaving the area.
The Nuclear Decommissioning Authority (NDA) which runs the MOX plant said workers could be offered jobs elsewhere in the Sellafield complex, which employs about 12,000 people.
But it admitted there was no guarantee of redeployment, adding the closure of the plant would take several months.
'Modern needs'
Eddie Martin, Leader of Cumbria County Council, said: "The government must surely step in to ensure that nuclear skills and jobs are retained in West Cumbria for the longer term future of the industry.
"The most effective way of doing this is for the government to immediately confirm it will commission and build a new Sellafield MOX plant that will serve modern needs."
It is estimated that a new MOX Plant at Sellafield could provide about 5,000 construction jobs and ongoing plant employment.
The NDA said it was unlikely that fuel for next-generation reactors could have been produced by the existing MOX plant, which was designed for older models of foreign reactors.
An NDA spokesman said: "The NDA's decision is a commercial matter which relates to this facility only.
"Separately, the government has been consulting on the policy options for dealing with the UK's Plutonium stockpile, including possible re-use as MOX fuel.
"The NDA awaits with interest the outcome of this consultation."