Flood alleviation scheme complete in Penrith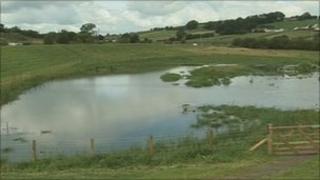 A £5.6m scheme to protect hundreds of homes from flooding in Cumbria has been unveiled.
A total of 263 homes and 115 businesses in Penrith will benefit from the new Environment Agency scheme.
It aims to reduce the chance of flooding from the watercourse that runs under the streets of Penrith.
In November 2009, Cumbria suffered unprecedented rainfall which led to widespread flooding, affecting many homes and businesses.
A reservoir has also been constructed to hold flood water and be a haven for wildlife.
Adam Walsh, flood risk manager for the Environment Agency, said: "In Penrith, the nature of the work replacing culverts under the streets, means that some people aren't aware of all the work that has taken place and how they now benefit from improved protection against flooding.
"Work on the scheme involved fixing and replacing more than 675 metres of culverts underneath the streets.
"It has also involved constructing a flood storage reservoir - the equivalent size of 30 Olympic sized swimming pools - which has been built upstream to hold back flood water."
The scheme was carried out in partnership with Eden District Council, Cumbria County Council, Eden Rivers Trust, Cumbria Wildlife Trust and local businesses.