Burglary theory over fire at Kendal Conservative office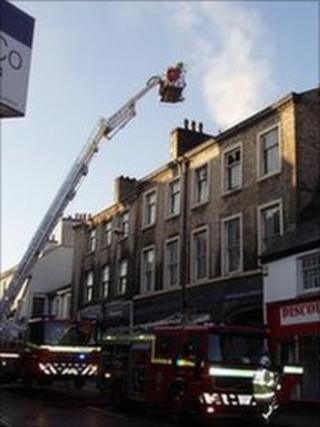 Police believe burglars were responsible for a fire at a local Conservative Party office in Cumbria 18 months ago.
One person needed treatment after the blaze at the offices of the Westmorland and Lonsdale Conservatives in Kendal on 19 February last year.
Four people arrested over the incident were later released without charge.
Cumbria Police said it was thought the fire started as a result of a burglary and was not politically motivated.
The three-storey Georgian building was the campaign HQ of Westmorland and Lonsdale Conservative parliamentary candidate Gareth McKeever.
Detectives have made a renewed appeal for witnesses in an effort to trace those responsible.
Det Ch Insp Bob Qazi, who is leading the investigation, said: "We have made extensive and far reaching inquiries into the fire and now believe that it was started during a burglary and not through any malice directed specifically against the Conservative Party.
"Several people have been arrested and interviewed, but as yet no-one has been charged.
"Police inquiries are still continuing to gather evidence and bring those responsible to justice and we appeal, again, for anyone with any knowledge of the offenders to come forward and give us information.
"This is still an active inquiry and the police are determined to catch the person or people responsible.
The local Conservative Party said it appreciated the work of the police and was continuing to support the continuing investigation.