Grizedale Forest art plan receives £175,000 boost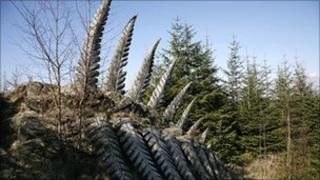 Plans to create more art works at Grizedale Forest in Cumbria have been given a £175,000 funding boost.
The forest, near Hawkshead in the Lake District, has been a centre for art in the environment for more than 30 years.
It has received £80,000 from South Lakeland Council and £95,000 from the Arts Council for several new works.
The cash will be used to fund a new sound installation and a number of sculptures as part of a project called Arts Roots Grizedale.
'Rich history'
Hayley Skipper, the Forestry Commission's curator of arts development at Grizedale, said: "It is absolutely fantastic news that we have been able to secure the funding to achieve our dream of re-establishing Grizedale Forest as a leading site for art in the environment.
"Grizedale Forest has a rich history of being a unique landscape for inspirational art which has drawn visitors locally, regionally, nationally and internationally for decades.
"This funding will enable us to build on these foundations and to reinvigorate the art experience for many more years to come."
The first work is due to be installed before the end of the summer.
Some artists will be commissioned to develop ideas for new works for the Ridding Wood Trail, the Millwood Trail and there will also be a "cycle-able" sculpture for two-wheeled visitors.