Tree disease discovered in Cumbrian woods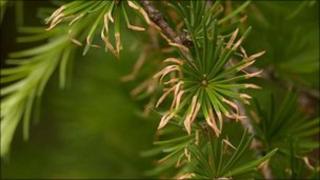 A disease which kills larch trees has been discovered in Cumbria for the first time, the Forestry Commission has said.
Ramorum disease has been confirmed in two woods in the Eskdale Valley, in west Cumbria.
The Commission said it was the second outbreak in the north-west, after one in Lancashire, and the third in England.
The only way to control the disease is to fell trees.
The disease is caused by phytophthora ramorum, a fungus-like pathogen. It is particularly serious in Japanese larch trees and rhododendrons.
It was identified during aerial surveys by the Commission working with the Food and Environment Research Agency.
Dr John Morgan, head of the Commission's plant health service, said: "It's disappointing to find ramorum disease on larch trees in Cumbria, but it's not altogether surprising given that there have been other infected plants nearby and that Cumbria's location and climate put it in a zone of moderate risk for the disease."
He urged those who managed or visited woodland to keep watch for signs of the disease and report it.
Symptoms include needles which are grey or black instead of green, and branches which have gone yellow and are breaking off.