Tribute to farm quad bike death father Colin Ellwood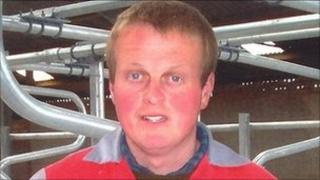 The family of Cumbrian man who died in a farm accident have paid tribute to a "wonderful husband and marvellous dad".
Colin Ellwood, 38, died on Friday in Marton, near Ulverston, in an incident involving a quad bike.
An air ambulance was called, but Mr Ellwood, a father-of-two, was pronounced dead at the scene.
Mr Ellwood's wife Helen described him as a "wonderful and caring father" who adored their sons Clark, aged 5, and three-year-old Angus.
The Health and Safety Executive (HSE) is investigating the exact circumstances of the incident which Cumbria Police said was not being treated as suspicious.
'Mischievous smile'
Mrs Ellwood said: "Colin was a wonderful and much loved husband, he was a marvellous dad to our sons Clark and Angus who he truly adored.
"He farmed all his life and lived for his work, taking great pride in everything.
"He and his brother Richard had always worked as a brilliant team.
"Anyone who knew Colin will remember his mischievous smile, wicked sense of humour and that he called a spade a spade.
"Colin was never work shy, he was always willing to help anyone and had a heart of gold. He will never be forgotten and words cannot express how much he will be missed."
Mr Ellwood's brother Richard added: "We have always worked together and worked hard at building up our farming business as a partnership. I have lost half of my team."
Mr Ellwood's parents, Sheila and Clark described him as an "irreplaceable son".