Cumbria sex crime victims go out of county for care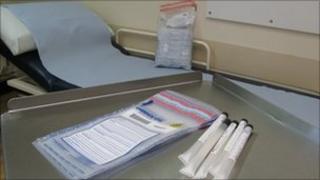 Victims of sexual crimes in Cumbria face a journey to Lancashire for specialist care because of a lack of facilities in the county.
The Sexual Assault Forensic Examination (SAFE) centre in Preston is being used because similar specialist facilities are not available in Cumbria.
Figures from the Ministry of Justice show there has been an increase in reported rapes in Cumbria.
During 2010, 130 cases were reported compared to 96 in 2009.
Although the Preston SAFE Centre currently provides facilities available to the whole of Cumbria, having a local service available in the county would be, for many, a better solution.
Abigail Finnegan is the chief executive of Safetynet, a charity based in Carlisle which works with the victims of sexual abuse and their families.
She said: "The services offered in Preston are second-to-none. It is worthwhile accessing those services but the 180-mile round trip is not ideal."
Dr Nigel Calvert, from NHS Cumbria, said: "We are exploring things to try and deliver a service more locally.
"We are quite hopeful that we might be able to identify some NHS premises. Some money is available, so we could set the service up, at least as a satellite from a bigger centre."
'Privacy and security'
The SAFE Centre in Preston provides specialist examination, interview and support, all in one place.
Dr Alyson Jones, medical director of the SAFE Centre, said: "When you come in here you know that you have privacy and security."
The unit, on the site of the Royal Preston Hospital, offers a secure and private place of safety where the medical and emotional treatment of the victim can be started.
Dr Jones said that as well as expert staff, the "wrap-around" care, which includes a referral to a GP, a local genitourinary medicine (GUM) clinic and for counselling, as well as a call 10 days after the visit, made a real difference to helping recovery.
The centre, which opened in July 2002, was the first purpose-built facility of its kind in the country, combining forensic and medical care for complainants of rape and sexual assault.
Dr Jones added: "This holistic treatment can be a significant step forward for someone who has been violated in starting the journey to rebuild their dignity.
"The Cumbrian residents we've had here say that it is worthwhile - the service is worth travelling for.
"It's one of the most traumatic experiences you can go through. The healing process should start at this point."
Kate Rowley, from Cumbria Constabulary, said the facility in Preston was a "gold" service compared to what has been offered in the past and it is worth the journey.
Dee Inott is one of only two forensic nurse examiners in the country.
She said: "There's nothing more rewarding than when you see someone whose been violated go through an examination and at the end of that they thank you for what you've done."
The Ministry of Justice said the rise in reported cases could be partly due to changes in the way attacks are recorded and because of the better treatment of victims.
Changes to Home Office guidelines in 2010 provided extra guidance for all police forces. As a result figures throughout the country are now recorded in a more uniform way.