South Lakeland Council rents 'seized' home to family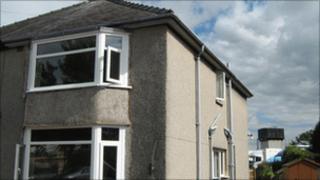 A Cumbrian council which won a legal bid to take over an empty home has handed it over to a homeless family.
The vandalised house in Kendal was the first to be made the subject of an Empty Dwelling Management Order (EDMO) by South Lakeland Council.
Only a handful of the orders have been granted in the UK - they allow councils to take over homes for seven years.
The keys to the two-bedroom semi in Mintsfeet Road have been handed over to the Kitchings, a family of three.
A spokesman for South Lakeland District Council (SLDC) said the property had been refurbished and the cost of repairs would eventually be recouped from the rent.
All remaining rent money would be handed over to the property owner, who does not live in the area.
SLDC said the owner had failed to respond to requests to rent the property out over the years.
Neighbours also complained that it was being used as a "drinking den".
'Source of anxiety'
SLDC's empty homes officer Lynne Gilbertson said: "I am delighted that we have been able to renovate this long-standing empty property and offer it to a local family looking for a home.
"The property had been vandalised and had been a source of anxiety to the surrounding community for a long time, so the council stepped in and took action to bring this empty home back into use.
"The immediate neighbours are relieved that it is no longer a concern to them, as it will once again be occupied and cared for."
Westmorland and Lonsdale MP Tim Farron, who has campaigned to try to get an estimated 1,000 empty properties in the south Lakes back in to use, welcomed the move.