Pedometers to record Cumbria cows' behaviour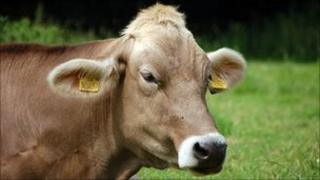 Pedometers have been fitted to a herd of cows in Cumbria to let the farmer know when they are ready to breed.
The device records their movements and sends regular updates to a computer.
Cows walk around more when they are in season, so a spike in activity indicates that they need to be inseminated.
Richard Park, who farms near Kendal, said that without the pedometer he would have to spend half the night monitoring his herd of 160 cows.
'Quite secretive'
A growing number of farmers are using the pedometers, which the NFU describes as "a useful management tool to help optimise performance".
Mr Park said: "Cows are quite secretive, they don't like giving things away.
"Its important that they are artificially inseminated at the right time.
"We watch their behaviour all the time, but 70% of when the cow displays her heat behaviour is during the night.
"I get up at four in the morning, and don't want to spend half the night watching for it."
He added: "It is quite expensive, but it is so important that we get the cows back in calf, because they need to do that to produce milk, that it's actually a very good return for the investment made."
Amanda Ball, from DairyCo, an organisation that works on behalf of British dairy farmers, said: "The technology helps farmers manage reproduction in their herds and releases time for them to tend to other important matters, looking after their cows and producing top quality milk."