PM David Cameron helps youngsters build raft at Ullswater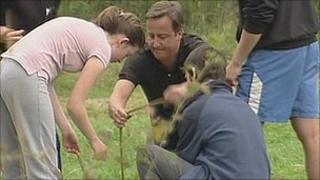 Prime Minister David Cameron pitched in to help build a barrel raft with youngsters in Cumbria on a tour of an Outdoor Bound centre.
Mr Cameron met a group of 10 young people at the centre on the shores of Ullswater, in the Lake District.
The prime minister changed from a navy blue suit into jeans and a t-shirt before helping the group make the raft.
Camp leaders said the exercise was about teaching young people the value of hard work, trust and responsibility.
The youngsters had been invited to The Outward Bound Trust centre at Howtown by The Challenge Network charity - which says the lessons learned could help turn the tide of fear and loathing blighting the nation.
Mr Cameron said teaching people to work for each other was "one of the things we need to do".
'Moral responsibility'
He added: "We need to give young people these opportunities and bring them together in new ways."
Jon Yates, co-founder of The Challenge Network, said the charity was addressing the issues behind the riots and destruction seen last week.
He said the ideas of personal responsibility and belonging which underpinned British society had diminished, and that people had become less trusting and hopeful.
He said: "We are no longer teaching people about responsibility, accountability, and consequences.
"So we saw people rioting who had no sense they were destroying their own community and no sense of moral responsibility.
"What we are doing is desperately trying to put that glue back into society."