Ulverston flood support centre set to close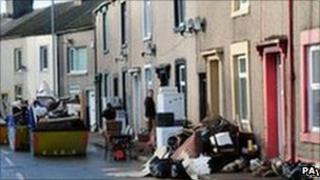 A centre set up to support residents of a flood-hit Cumbria town is to close after almost two years.
The multi-agency facility was set up at a council depot in Ulverston to deal with the aftermath of the devastating floods of November 2009.
It provided advice from a range of experts and offered use of washing machines, a fridge and microwave.
With people now back in their homes, South Lakeland District Council has said it will shut on 1 October.
Councillor Ian Stewart, portfolio holder for central services, said: "The centre was popular and well used at the beginning, but as people have gradually moved back into their homes, the original need has diminished and it was never intended to be a permanent facility.
"I would like to take this opportunity to thank all the people who have taken care of the support centre since its opening in November 2009, and the organisations who helped set it up."