Keys handed over to Carlisle's Morton Academy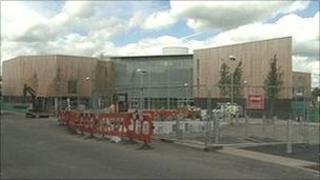 The keys of the new Morton Academy in Carlisle, Cumbria are being officially handed over at a ceremony later.
Featuring a roof garden and a canopied outdoor theatre, the £26m project has been built on time by construction firm Kier.
It is one of two academies run by the Richard Rose Federation in the city. The other is the Central Academy.
The building has been designed to minimise energy use and to limit greenhouse-gas emissions.
Kier Project Manager Mark Paterson will officially hand over the keys to the head teacher Katie Robinson, to mark completion of the new building.
The Richard Rose Morton Academy is constructed on the site of the old Morton School. It is designed to accommodate 1,150 pupils.