Video cameras to film assaults on Copeland council staff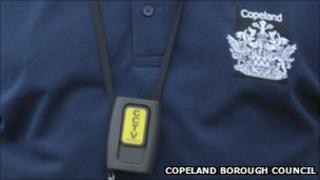 Council enforcement officers in west Cumbria are to be issued with video cameras which it is claimed should help reduce assaults on staff.
Copeland council hopes the small cameras, worn around the neck, will act as a deterrent and will be used to record evidence if assaults take place.
Images will be erased after one month, if not required as evidence, it said.
Similar cameras are already used by a number of councils and other businesses across the UK.
Four cameras will be used in the Copeland area at a total cost of £2,000.
Traffic attendants
Enforcement employees carry out work involving environmental crime and parking enforcement.
Councillor Allan Holliday, Copeland Borough Council's portfolio holder for the environment and sustainability, said: "The new video cameras that we have installed are clearly visible on the uniforms of staff and give a clear visual deterrent to any potential assailant that their actions will be recorded."
The system allows the council officer to record activity at the touch of a button.
In Leeds, attacks on traffic wardens dropped from 172 in 2009 to 120 in 2010 because of a similar camera scheme, according to council figures.
Traffic attendants in Salford were the first in the UK to record their work on video during 2007.