Butchers Arms pub in Crosby Ravensworth opens as co-op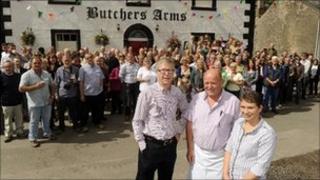 A community-owned pub in Cumbria has reopened after locals clubbed together to purchase the property.
The Butchers Arms, in Crosby Ravensworth, near Penrith, had been closed for a year when 300 village residents decided to reopen it as a co-operative.
They raised the £300,000 needed to buy the pub and opened it on Saturday.
John Stubbs reopened the venue and said his mother "would be thrilled" after he spent his youth in there with her.
Mr Stubbs, who flew in from Victoria, Australia, grew up in the pub when his mother Olive owned it from 1958-78.
'Heart back'
As well as putting in a minimum of £250 each, the co-owners helped renovate the property to bring it up to standard.
The had help from The Co-operative Enterprise Hub and said the project would "put the heart back into the community".
They, along with volunteers, have taken on rewiring the pub, overhauling the beer garden and creating a full commercial kitchen.
Cameron Smith, treasurer of the new co-operative, said: "This has been an incredible community project to be involved in and this pub will now benefit from having around 300 'co-owners' committed to its future success.
"It has brought our community together in many different ways and the support already received from volunteers and trades could not have been better."