Architects shortlisted for museum contract in Cumbria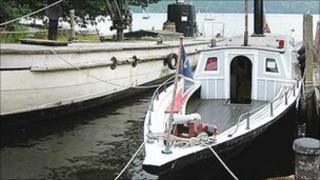 Eight design teams have been shortlisted for a contract to design a major tourist attraction on the shores of Windermere.
The £5.5m contract will see the redevelopment of the Windermere Steamboat Museum.
The museum has a nationally important collection of vessels demonstrating the local shipbuilding heritage.
Operated by The Lakeland Arts Trust, the museum is currently closed to the general public.
A competition was held to decide the shortlist of eight, from 114 expressions of interest.
Gordon Watson, chief executive of the Lakeland Arts Trust, said: "The project that we are developing here is a £10m project. The build costs are about half of that.
"We want a building that is fresh and interesting, but also it needs to be right for this site. This is a very sensitive site right next to the lake with wonderful views."
Boats within the museum's collection demonstrate the continuous development of boat building in the Lake District over 200 years from 1745.
The collection is currently in dry storage while conservation and maintenance is undertaken.
The Lakeland Arts Trust recently secured initial support from the Heritage Lottery Fund, including £494,000 development funding.
Design proposals will go on public display in late October with a final decision as to who will design the new complex due some time after November.
It is anticipated that the redeveloped museum will attract more than 80,000 visitors a year and reopen in 2015.