Flower the pet skunk missing from owners' Kendal home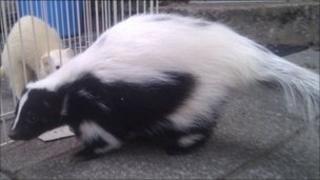 A couple in Cumbria are appealing for help from local residents to find their missing pet skunk Flower.
She is believed to have wandered from the front door of their home on Hayclose Crescent in the Kendal Parks area, Kendal, at around 09:00 BST.
Flower is two-and-a-half-years-old and is described as very timid and around the size of a large domestic cat.
Her owners say she is not dangerous, but does have the ability to spray if she feels her life is in danger.
Owners Andy and Karen Binnie are concerned for her welfare as she sleeps between 18 and 20 hours a day, and is only awake in the early hours of the morning and evening.
'So worried'
The couple adopted Flower from a rescue centre in May.
Mrs Binnie said: "Flower is such a special little part of the family, she comes away with us on holiday, we take her everywhere. I'm so worried."
Flower likes to hide in small spaces, so local residents are asked to check in undergrowth, outbuildings and any places they think she could be hiding.
Anyone who has spotted a skunk should contact police on 0845 33 00 247. People are advised not to try to pick her up.