Flower the pet skunk found in Kendal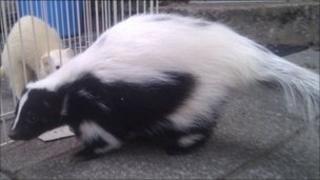 A missing pet skunk has been found safe and well in Cumbria.
Flower, a female skunk aged two, went missing from her home on Hayclose Crescent in Kendal, Cumbria, earlier on Friday.
The couple who own Flower contacted Cumbria Police for help, and the force put out an appeal in the hope members of the public could find her.
The skunk was found by a friend of the couple and returned to her relieved owners.
Andy and Karen Binnie adopted Flower from a rescue centre in May.
They were concerned for her welfare as she sleeps between 18 and 20 hours a day, and is only awake in the early hours of the morning and evening.