Snipe numbers increase in Cumbria's Campfield Marsh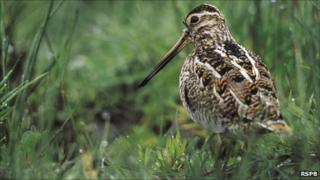 A species of wetland bird has had its best ever year at the RSPB's Campfield Marsh reserve in north Cumbria.
There is now a record-breaking 22 pairs of nesting snipe at Campfield Marsh, as well as increases in lapwings and redshanks.
In 2001, only two pairs of snipe inhabited the reserve in north Cumbria.
It is thought the restoration work at the site has resulted in an increase in wading birds and other wetland wildlife.
A medium-sized wading bird, snipe are best known for their unusual courting displays, where the male flies in an undulating manner while making a strange whirring noise - called drumming - with its outer tail feathers.
Dave Blackledge, warden at RSPB Campfield Marsh, said: "Work to dam drains and create new pools on the reserve has really paid off.
"It's great to see displaying snipe in such healthy numbers, as well as other wading birds such as lapwings and redshanks over the fields once again."