Film deal for author of children's book Muncle Trogg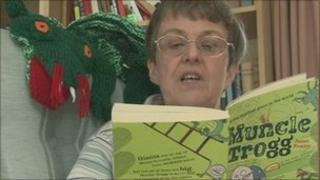 A Cumbrian woman has spoken of her "glow of fulfilment" as her first book is set to be turned into a Hollywood film.
Janet Foxley, 67, from Low Heskett near Carlisle, won a competition which saw her children's book Muncle Trogg published in 20 countries.
Sony Pictures has acquired the rights to make an animated version of the story.
The book features a fairytale community who live inside a volcano.
Muncle Trogg won the Times/Chicken House children's fiction competition for an unpublished author, in 2010.
Mrs Foxley, a retired administrator, said: "Rather than excitement I think I feel a glow of fulfilment inside. It is really nice after having worked so hard for so many years to have my work recognised by people who really know what a good children's book is."
Sony Pictures Animation acquired the motion picture rights to Muncle Trogg earlier.
Bob Osher, president of Sony Pictures Digital Productions, said: "Great stories begin with great characters and Muncle Trogg is one of the most original."
Mrs Foxley's current publisher is Barry Cunningham. As editor, with the publishers Bloomsbury, he discovered the first Harry Potter novel by the then unknown JK Rowling.
Mr Cunningham said: "We are so delighted that Sony Pictures Animation is set to develop the little giant into a magical movie character."
Mrs Foxley said of comparisons made to JK Rowling: "I think other people's expectations of what I might do are far greater than my own. Possibly because this has come to me when I have accumulated enough years and wisdom to be fairly realistic."
Her husband, Donald, said: "When she won the competiton it was like throwing a switch. It was totally different and the world just changed instantly. From being just one of hundreds and hundreds of aspiring authors, to being a published author."
Muncle Trogg is the first in a series of adventures starring Muncle, the "smallest giant in the world". It features illustrations by Steve Wells.
Development of the animation is in the early stages and typically takes three or four years to develop, according to a Sony Pictures spokesman.