Leylandii trees removed as part of wastewater scheme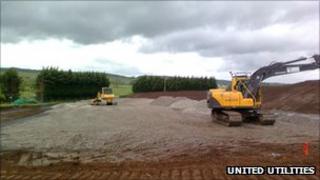 Non-native trees are being removed in east Cumbria as part of £6.7m project at a water treatment plant.
About 30 50ft (15m) cypress trees have been cleared as part of the project at the Langwathby wastewater treatment works.
United Utilities is expanding and upgrading the facility to improve water quality in the River Eden and its tributary, Briggle Beck.
Once the work is complete, the trees will be replaced with native species.
Project co-ordinator Paul Wheadon, of United Utilities, said: "Felling the trees was done in consultation with council planners.
"The trees were planted many years ago but were not the best choice for the rural situation. Leylandii are normally found in gardens so they looked unnatural in a rural setting.
"The project gives us the opportunity to replace them with more sustainable native species which will help the works blend into the landscape."
Work also includes closing two smaller sewage works at Skirwith and Winskill and replacing them with pumping stations. A new 3.1 mile (5km) pipeline will now take the waste for treatment at Langwathby.
Since starting on site in May, engineers have made good progress at the sewage works and built around half of the new pipeline, including crossing the A686 using a directional drill.
"We are now building a new outfall to the River Eden where the cleaned and treated wastewater will be returned to the river. This work needs to be done before the end of September so we don't affect the fish migration and spawning season," added Mr Wheadon.
Briggle Beck is a Special Area of Conservation.