Workington linked by replacement Navvies Bridge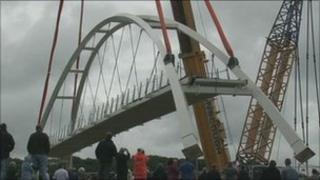 A £1.7m bridge to replace one damaged beyond repair by the Cumbria floods has officially opened.
Workington's Navvies Bridge was one of three in the town to be destroyed in November 2009.
The design of the 68m (223ft) steel bow-arch structure, which will carry pedestrians and cyclists, was chosen by local people.
It is more resistant to future flooding because it spans the water without supporting piers.
Council officials and representatives from Sustrans, the cycling organisation, and the Nuclear Decommissioning Authority (NDA) were present at the opening ceremony, during which local school children and a cyclist were the first to cross.
County Councillor Tony Markley said: "I'd like to thank the local people, not only for their co-operation and feedback in the consultation process, but also for their patience as this highly anticipated bridge has been constructed."