Barrow RNLI lifeboat coxswain retires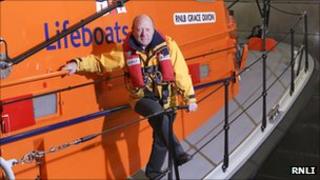 After 20 years of front line service with the RNLI, the coxswain of the Barrow lifeboat is hanging up his waterproofs to take up shore-based duties.
Alec Moore joined the south Cumbrian lifeboat crew in 1969, a day before he turned 16.
Working through the ranks he took up the position of coxswain in 1991.
In 2006, he was appointed MBE by the Queen for services to maritime safety.
Mr Moore said of his service: "[My] 20 years in the hot seat has flown by, yet I can still remember vividly my first shout as coxswain, and each one since then.
"I shall miss going afloat, but, even though I could have stayed for another couple of years, I thought that the time was right to hand over the helm.
"I'm officially stepping down off the boat on to the shore crew, back where I started 44 years ago, so things have come full circle."
Family affair
The Barrow RNLI lifeboat station is situated on Roa Island at the edge of Morecambe Bay.
From an early age, it was always assumed that Mr Moore would join the lifeboat service. His grandfather, father and uncle served for over 105 years between them.
He officially joined the crew on 1 September 1969, and has gradually worked his way through every position, through the inshore and all-weather lifeboats as assistant mechanic, second mechanic, second coxswain and finally on 1 April 1991, he became coxswain.
The coxswain is the person in charge of the all-weather lifeboat and is in command when at sea.
During his time on the crew the Barrow lifeboats have been launched 795 times and rescued 595 people.
Newly-promoted coxswain Shaun Charnley said: "He [Mr Moore] will certainly be a hard act to follow, but I'm looking forward to the challenge."
Connections with the Barrow lifeboat are still being maintained for the Moore family, as Mr Moore's two sons are involved on the boat and with the slip crew.