HMP Haverigg: Drugs and bullying highlighted in report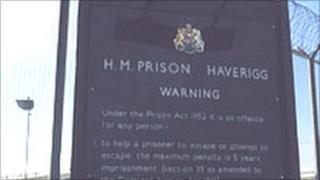 Drug abuse and bullying among inmates is still a problem at a remote Cumbria prison, inspectors have found.
Some accommodation is not up to scratch and relationships between some staff and prisoners was also "poor", inspectors at HMP Haverigg found.
But some improvements have been made since 2010, with inmates who self-harm being better cared for.
The prison said the report was "encouraging" and added that staff would work hard to address any issues.
HMP Haverigg is a category C training prison for men. The unannounced inspection was carried out in March.
Nick Hardwick, Chief Inspector of Prisons, said it was not unusual for drugs to be thrown over the walls at the prison.
'Deserve credit'
Mr Hardwick said: "The prison had seen some significant improvements, but has more work to do.
"Haverigg's remote location makes it unpopular with prisoners.
"Its straggling and diverse accommodation is hard to supervise and it is not unusual for drugs to be thrown over its long perimeter fence."
But Mr Hardwick said staff had had some success tackling drug problems.
He also said inmates spent more quality time out of their cells learning new skills.
But he added: "Despite some improvements in policy and procedure, levels of violence and bullying remained too high and many prisoners felt unsafe.
"Some very poor quality accommodation remains in use.
"Staff-prisoner relationships varied, and there was a lack of support for the much increased number of foreign national prisoners."
He said there was still a "large amount" of work to do to bring the jail up to scratch, but managers and staff deserve "credit".
In a statement on behalf of the prison, Michael Spurr, chief executive officer of the National Offender Management Service, said: "I am pleased that the chief inspector has identified improvements in safety, purposeful activity and resettlement at Haverigg.
"The governor and staff will work hard to minimise bullying and low-level intimidation, to improve staff-prisoner relationships and to address issues with facilities."