Gurners face off for title at Egremont Crab Fair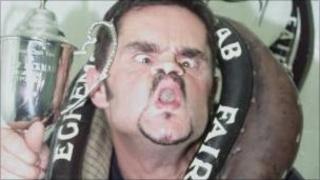 World champion gurner Tommy Mattinson has been spending the week loosening up his face as he prepares to defend the title for the 13th time.
Competitors are heading to Cumbria this weekend for the famous competition, which is part of the Egremont Crab Fair.
Contestants put their heads through a horse collar and contort their faces in a bid to be crowned champion in the much-loved event.
Mr Mattinson has been so successful he is featured in the Guinness World Records.
He said he was looking forward to defending his title on Saturday in the Market Hall, Egremont, but confessed to feeling nervous.
'Lucky number 13'
"Even after all these years I still get the old butterflies. I don't think they will ever go, but I think it's a good thing," he said.
"A bit of nervous tension keeps me on my toes and makes me perform better."
He said defending his title for the 13th time was important to him.
"I will be practising most of the week just to loosen my face, and muscles up, and to keep improving the faces that I pull," he said.
"As this will be the 13th title defence for me, it will be no different to all of my defences.
"They all mean a great deal to me and I will give it my best. As for the number 13, my wife was born on the 13th so it is already a lucky number for me."
The competition also boasts another record holder in Anne Woods, from Egremont, who has won the ladies' world gurning championships 27 times.
Horse leaping
The Egremont Crab Fair has taken place since Medieval times.
First held in 1267, when King Henry III granted a Royal Charter for a weekly market and an annual fair, it is said to be one of the oldest fairs in the world.
The Lord of Egremont started the tradition of giving away crab apples, from where the fair gets its name.
Steve Foster, chairman of the organising committee said he would not know about the entries for the gurning until shortly before it started.
He said: "All entries are taken on the evening just before the competition starts, there's no pre-entry, so we won't know how many competitors until Saturday.
"Tommy Mattinson is looking to extend his world record 12 wins, all the others are looking to topple him."
Pulling ugly faces on stage is only one part of a series of traditional sports held as part of the Egremont Crab Fair.
In the days leading up to the event, a number of events including horse and pony leaping, live music, an onion competition and pipe smoking competitions are held.
However, this year's Crab Fair Queen, Brooke Drummond, will be absent after being injured in a car accident.
Organisers have said they will consider whether she can take part in next year's event instead.
Reserve Queen Rebecca Holt will carry out the duties in her place.