Mortar found in Carlisle war memorabilia collection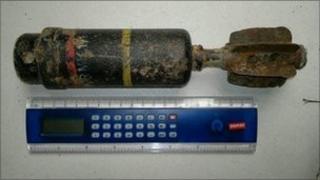 A mortar has been detonated after being found among a collection of war memorabilia in Carlisle.
Police were informed about the discovery of a device, which was a live mortar, at Strawberry Terrace on Tuesday.
An Army team carried out a controlled explosion in the Kingmoor area, which was completed safely.
The mortar was discovered among a collection of war memorabilia recently purchased at an auction.
Cumbria Constabulary Insp Tony Quinn said: "Old Army ordnance sometimes turns up in the strangest places.
"Don't attempt to move or interfere with the device - if in any doubt contact the police and follow the advice given."