Public inquiry on Cockermouth housing plan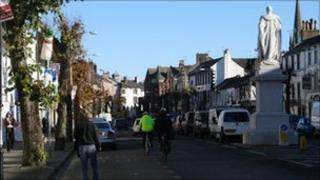 A public inquiry has begun into a major housing scheme that would bring more than 200 new homes to Cumbria.
The £20 million plan to build 221 homes on land near Fitz Woods in Cockermouth will be considered over three days.
Bob Slack, landowner and chief executive of developer Lakeland Leisure, said he hoped it would stop young people moving away from the area.
The Cockermouth Civic Trust has said the plans are too large and is opposing the plans.
Mr Slack said: "There's been no council building since the 1960s, we're a long way behind... 40% of the development will be affordable homes."
Darren Ward, the Architectural Advisor at the Cockermouth Civic Trust, said: "The trust certainly do recognise that the town needs new housing, but a supply of 221 homes, even if it's staged over five years, would have a large immediate impact on the town.
"It would have many negative impacts and change the whole nature of the town."