Rose Castle in Cumbria faces 'unclear future'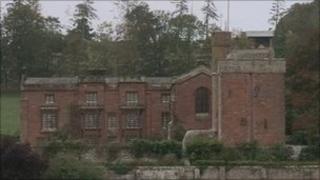 The future of the former residence of the Bishop of Carlisle, Rose Castle, is still unclear following a meeting of the Church Commissioners.
The Grade I-listed building has been vacant since the official residence moved to Keswick earlier this year.
A campaign group hopes to stop the property being sold into private hands and public access restricted.
Its future will be further discussed by the Church Commissioners next week.
Advice has also been sought from English Heritage who describe the buildings and the landscaped gardens as a site of outstanding national significance.
Julie Rickerby, from the Friends of Rose Castle, wants the public to have access because of the building's history and location.
"They promised us a public consultation with local people about 18 months ago and nothing has happened", she said.
'Reasonable conclusion'
"Now all we are asking is for them [The Church Commissioners] to talk about it. Surely we can come up with some reasonable conclusion that everyone is happy with."
A Church of England spokesman said: "The Assets Committee has met and discussed the future of Rose Castle. There will now be further discussions at the Board of the Church Commissioners next Thursday. No announcement will be made until after the Board has met."
The 14-bedroom Grade I-listed property dates back to about 1230 AD and had been the Bishop of Carlisle's home for 800 years.
A spokesperson for English Heritage said: "The Church Commissioners for England have sought the advice of English Heritage on the future of Rose Castle.
"In providing advice to the Church Commissioners the objective of English Heritage is to help secure a future for Rose Castle which preserves its outstanding archaeological, architectural and historical significance as part of an economically viable and sustainable use of the property."