Community Projects Carlisle charity to cut services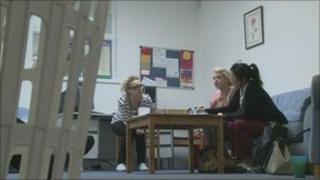 A charity which helps homeless and vulnerable youngsters with emergency food and housing advice is being forced to close most of its services.
Community Projects Carlisle (CPC) supports about 200 people aged between 16 and 25 at any one time.
It said a funding shortfall of £30,000 means it will need to cut costs.
The charity will reopen in a smaller property on 17 October, providing a fraction of the help it currently has on offer.
Julie Crosbie, from Community Projects Carlisle, said: "The only thing we will be offering now is our advice drop-in service.
"The funding committee have been working tirelessly to obtain continuation funding.
"We have a proven track record, but it is increasingly difficult to obtain grants now with increased demand on funders.
"There is not the money around that there was. We solely rely on funding organisations, as we do not get local authority funding.
"We will open on the 17 October, in a smaller premises at the top of Warwick Road.
"It is not going to big as what we have got at the moment, but we are going to do our best."
CPC was developed from Carlisle Nightstop, which was started by Carlisle Churches Together in 1997.