'Horrendous' budget leads to cuts for Barrow council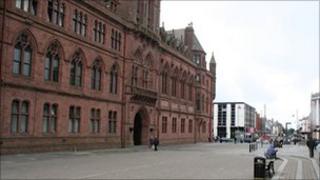 Increased council tax, reduced staff and higher parking charges are among the measures planned by Barrow-in-Furness Borough Council to save money.
The council is also looking at losing half its senior management, including the chief executive, and closing the town's Dock Museum during the winter.
The Labour-run council needs to save £5m a year, a budget shortfall the council leader has called "horrendous".
Leader Dave Pidduck said the council had "agonised" over the plans.
He said the authority was facing "unprecedented cuts" and had no alternative.
"If I open one thing I have to close another," he said. "People have to understand this. I'm not a monster. I live with these people. But the fact is that, as a council, we don't have much room to manoeuvre."
Alternative funding
The council's budget plans include reducing staff and halving the number of senior managers to five. The chief executive, Tom Campbell, will not be replaced when he retires early in June 2012.
Prices will be increased and hours cut at the town's leisure centre, tourist information centre and theatre complex.
Burials and cremations will cost more, as will parking in the town centre.
Some community centres will close unless they are taken over by local people and funding for charities and other groups will be cut.
Julie Hammerton, from Barrow's carnival band Barracudas, said she would need to look for alternative funding.
"We can't offer the same service we have in the past... it'll have to be cut back," she said.
"We've all been waiting for the bad news. I've got to start thinking about what I'm going to do and how else I'm going to raise some money to keep the band going."
'Unprecedented'
The council's chief executive, Tom Campbell, said: "Am I shocked? It's like nothing I've experienced in 38 years in local government.
"Everything we're doing will have an impact on the local economy but the government has set its agenda, it wants to cut local expenditure and it's expecting the private sector to step in and fill the hole.
"In the past the government has recognised that Barrow is a particularly poor area and we've been able to use the subsidy that we get from the government to keep our prices low.
"Now that subsidy is disappearing, the council doesn't really have any choice. It either has to charge an appropriate price or shut the facilities down."