Mystery in store as old photos found in Whitehaven shop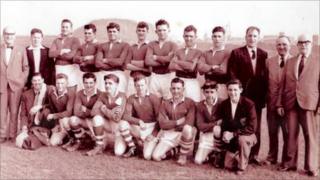 A mystery is waiting to be solved in Cumbria after photographs dating back 50 years were found in a supermarket.
Staff at a shop in Whitehaven discovered four photographs of Kells rugby team, which they believe were taken in 1957 or 1958.
Cumbria Police would now like to trace the owner of the photographs, which may have "sentimental" value.
The photos were handed in to police on Wednesday.
A spokesperson said: "These photographs may have sentimental value to someone and we would like to try and trace the owner to return them."
Anyone who believes they may have lost these photographs or has any information can contact Cumbria Police.