Aerial photos to spot lake algae in Elterwater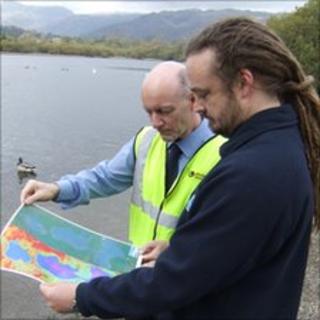 Scientists are taking to the skies in a bid to protect the wildlife in and around a lake in Cumbria.
Elterwater, in Great Langdale, has been affected by blooms of blue-green algae since the 1980s.
It can harm plants, insects and fish by reducing the oxygen content of the water.
Aerial images will be taken over a period of time to pinpoint colour changes, as the algae takes hold, in a bid to determine its cause.
The study has been launched by United Utilities, the Environment Agency and Natural England, with aquatic scientists from APEM Ltd.
James Ellaway, from APEM, said: "We are using state-of-the-art aerial photography and computer analysis software to get a picture of how Elterwater is changing.
"Combined with more traditional fieldwork, this process will give us a much clearer understanding of how and why the algae are produced, and the best way of caring for the lake in the long-term."