Cumbria's Acorn Bank Mill grinds first flour for 70 years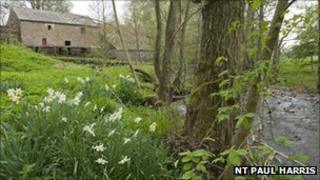 Grain is being ground at a mill in east Cumbria for the first time in 70 years.
Project volunteers say the first 110lb (50kg) of milled grain is not yet suitable for public consumption but they hope to see how good it tastes with some private baking.
Restoration of the Acorn Bank mill near Penrith, which closed in the 1940s, began in 1989.
Evidence collected by the National Trust suggests the current buildings date back to about 1800.
Sara Braithwaite, custodian of Acorn Bank near Temple Sowerby, said: "This is a fantastic result for all our volunteers, we couldn't have done it without them.
"It was great to hear the millstones turning and see all the lovely flour coming out."
The National Trust thinks the internal workings were substantially altered in about 1840 to allow the mill to grind wheat, having previously ground oats.
Further alterations were later made, including changes to the mill's second waterwheel to drive a surface water pump and haul trucks from a neighbouring gypsum mine.
Bob Price, one of the volunteers who made the flour milling possible, said: "We have still got a lot to learn, from how to untie the paper grain sacks easily, rather than fighting them, to balancing the speed of the wheel and the flow of grain to get a good product.
"All the hard work has really been worth it. It's been a very satisfying experience."