Grizedale Forest 'clockwork' artwork tree on show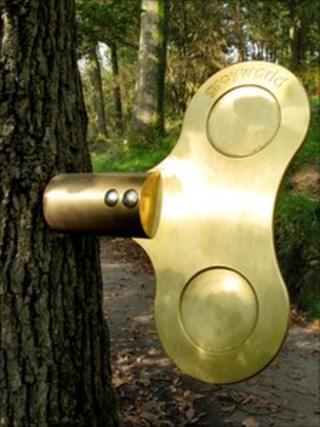 A "clockwork" tree has been unveiled as part of a £175,000 art project in a Cumbria forest.
Grizedale Forest, near Hawkshead in the Lake District, has been a centre for art in the environment for more than 30 years.
The Clockwork Forest is an interactive installation which can be wound up and plays music.
It is one of nine new pieces unveiled in the forest as part of the Arts Roots Grizedale project.
The project received £80,000 from South Lakeland Council and £95,000 from the Arts Council.
The Clockwork Forest is on the Ridding Wood Trail in the forest.
Hayley Skipper, the Forestry Commission's curator of arts development, said he was delighted that the piece "will provide a magical experience for all to enjoy for many more thousands of visitors to the forest".
Another new commission, the Wood for the Trees, is made of a huge section of oak tree that fell during the severe storms of 2005 and which has been put on steel props at the entrance to the Grizedale Visitor Centre.