Workington parade for the Duke of Lancaster's regiment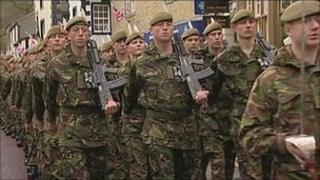 Soldiers of the Duke of Lancaster's Regiment have marched through Workington, Cumbria, during their homecoming parade.
The 2nd Battalion, which bears the title Lions of England, has returned from three years in Cyprus, and 15 months' service in Afghanistan.
A service of thanksgiving was held at St. Michael's Church, followed by a march through the town centre.
The commanding officer said the regiment was "chuffed" to be back home.
Lt Col Robbie Boyd said: "My Cumbrian soldiers proved themselves time and again in battle over 15 months in Afghanistan and over a record breaking three-year tour of Cyprus.
"Cumbria has supported us brilliantly whilst we have been away, and I am particularly pleased that we are marching through Workington, which, I'm sure, will welcome us home in style."
Mayor of Allerdale Joe Holliday said: "These soldiers are extremely brave and this parade is the perfect opportunity to welcome home these brave men and women who risk their lives for their country.
"I think it's wonderful that we can honour these people in this way and show them the people of Workington and Allerdale are proud of them."