Broughton Tower Estate land transfer agreed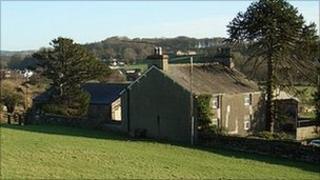 Land owned by Cumbria County Council is to be sold or disposed of to save money and benefit the local community.
The Broughton Tower Estate was left to Lancashire County Council in 1947 by Sir Robert Rankin, but transferred to Cumbria after boundary changes.
It consists of seven farms, woodlands and various other properties.
Part of the land will be transferred to an outdoor activity charity, some will be leased as allotments, and one of the farmhouses and outbuildings sold.
Greenslack Farm has been vacant since 2006 and the house needs significant capital investment.
The council said that sale on the open market was the best way to ensure its longer-term viability.
The other six farms will remain let on secure agricultural tenancies.
The land transfer to the Kepplewray Project will allow the charity, which works with disabled and non-disabled people, to offer a wider range of activities.