Winds rip roof from Tamalder nursery in Whitehaven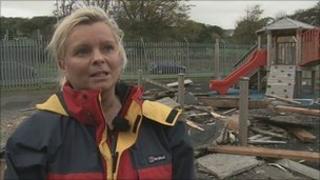 Children and staff fled when high winds tore the roof from a Cumbrian nursery.
Ten youngsters and four members of staff were in the Tamalder Childcare Centre in Whitehaven when the freak gust struck on Monday afternoon.
Most of the children had left for the day, but owner Donna Duff said those remaining had a lucky escape.
High winds which hit Cumbria also toppled part of a car park wall in Barrow, crushing three vehicles. No-one was injured.
Ms Duff said: "The place looks as though a bomb has exploded. There is no roof on the nursery.
"The children were sat playing and there was a member of staff with them. Another member of staff had just gone next door to get a baby out of the sleep room who was in a pushchair.
"They were actually standing in the door frame when the building started to shake. It was then that parts of the roof started to go.
"It all happened so quickly. We're just glad that everyone got out OK.
"The children were fine but the staff were in tears looking at the damage.
"I am very proud of the way staff got everyone out.
"We can rebuild the building, but if anything had happened to the children or staff it would have been heartbreaking."
Fire crews from Whitehaven and Egremont used a thermal-imaging camera to ensure no-one was trapped inside the nursery or the cars.
The nursery is likely to remain closed for the foreseeable future.
Ms Duff said she was in contact with Cumbria County Council in an effort to secure temporary accommodation.
At about the same time at least three cars were crushed as gust up to 70mph blew a wall down in Duke Street, Barrow.
Elsewhere, police reported fallen trees and debris on roads, but no serious injuries.