South Cumbrian hospitals 'have worst mortality ratio'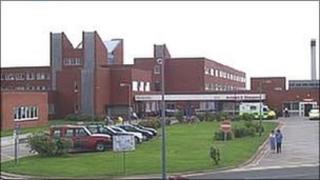 The trust that runs South Cumbria's hospitals is under more pressure after a leaked letter revealed it has the worst mortality ratio in England.
Ratios calculated by a points system are usually a figure less than 100, but University Hospitals of Morecambe Bay Trust's is 124, the letter says.
The trust said the problem was the way it has been handling information.
An inquiry is already under way at Furness General's maternity unit after the death of a number of babies.
Mortality ratios compare the actual number of deaths with the expected number of deaths at a hospital.
A lower number is better as it means more patients survived than was expected.
A letter sent to consultants by the hospital's medical director, Dr Peter Dyer, warned that the figures would cause concern to patients when the independent report was published next month.
'Responsible manner'
The trust, which runs hospitals in Barrow and Kendal as well as Lancaster, Morecambe and Ulverston, says the problem lies in the way it handles information gathered about its patients and that it includes palliative care in its figures, whereas other trusts may not.
Dr Dyer said: "As a percentage the number of deaths hasn't changed, so that is an indication that it was the way in which we have been handling information, rather than actual numbers of patients who have died. That number hasn't increased."
The trust says that following concerns about the figure, it has put into place a "more robust coding practice" and has worked with colleagues to get a better understanding of how to gather information.
"We acknowledge that there are problems and we are dealing with those in a very responsible manner.
"At the moment it is important that we concentrate on continuing to deliver a safe and caring service and that's what we're doing day after day..." said Dr Dyer.
Barrow's Labour MP John Woodcock is meeting with Morecambe Bay Trust's chief executive on Friday to discuss the problems.
Cumbria Police is currently investigating Joshua Titcombe's death at Furness General Hospital's maternity unit in October 2008, as well as those of other babies at the hospital.
An inquest in June ruled that nine-day-old Joshua died of natural causes, but found that midwives had repeatedly missed opportunities to spot and treat a serious infection.