Cumbria heart centre to cut travel need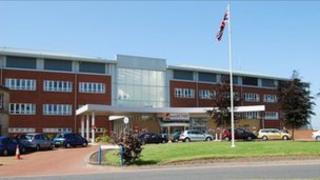 Patients who need a heart operation will soon be able to have treatment in Cumbria rather than travelling out of the county.
The Heart Centre is being built at the Cumberland Infirmary, in Carlisle, and coronary angioplasty operations will be carried out there.
The service is due to start at the end of November.
Currently patients are assessed in Cumbria but have to travel to other hospitals for treatment.
Work to bring the centre to the hospital was starting on Saturday with a crane putting the units in place.
Coronary angioplasty is used to treat heart disease and angina and sometimes as an emergency treatment for people who have had a heart attack.
It involves inserting a balloon to clear blocked arteries and may also involve the insertion of a stent, which is a tube to hold the arteries open.
North Cumbria University Hospitals NHS Trust said staff had spent more than a year planning the service.
It estimates it will be used by up to 700 patients a year.
A specialist operating theatre with x-ray imaging equipment and a ward is being built.
Lead interventional consultant cardiologist Dr Roger Moore said: "Cumbrian patients will have the opportunity for immediate diagnosis and treatment of coronary heart disease reducing the likelihood of heart attacks and saving lives."