Fears raised over mitten crabs' threat to Cumbrian wildlife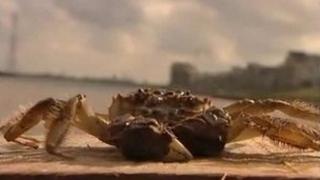 Wildlife experts in Cumbria are raising awareness of the possible threat to native wildlife if Chinese mitten crabs establish a population in the county.
An initiative by South Cumbria Rivers Trust helps protect habitats from invasive species and they are particularly concerned about this one.
If the crabs settle in the area, it could adversely affect native white-clawed crayfish, the Trust said.
The crabs were first spotted by Millom pier in 2005 but have not been since.
Named after their mitten-shaped pincers, they have soft bristles on their claws and can grow to the size of a dinner plate.
The wildlife experts are raising awareness so people in Cumbria can be on the lookout for the species and contact the Trust to deal with them.
'Wearing mittens'
Native to Asia, the crabs first arrived in Europe about a century ago and scientists in the UK are concerned they could take over many of the country's rivers.
Burrowing into riverbanks, they can cause them to collapse, increasing siltation within the water and impacting native fish species.
Bekka Corrie-Close, of the Cumbria Freshwater Invasive Non-Native Species Initiative, said: "If they do come here then it's going to be very difficult to get rid of them.
"If you see one you'd know that it's something a bit different, especially if they look at the claws as well, they really do look like they're wearing mittens."