Painting by Turner of Cumbrian view may fetch £300,000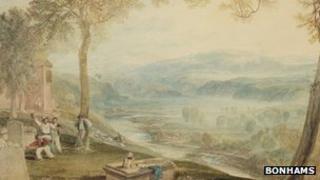 A painting of a Cumbrian view, described by the art critic and social thinker John Ruskin as a "priceless possession", is expected to fetch up to £300,000 at auction.
The watercolour by JMW Turner features a view from the churchyard of St. Mary's Church in Kirkby Lonsdale.
The painting, now known as Ruskin's view, was last seen at auction in 1884.
Auctioneers Bonhams is expected to sell the painting in London in January.
Charles O'Brien, head of Bonhams 19th Century paintings department, said: "This gentle and romantic painting of the River Lune winding through the landscape is a beautiful example of Turner's mastery of light and atmosphere.
"It is important in terms of Turner's relationship with landscapes at this period in his career, and he leaves out the church in order to focus on the trees, river and landscape with the valley extending into a wonderfully misty distance.
"It is a very pretty, quintessentially English scene with an outstanding provenance."
One of the largest collections of items connected to Ruskin in the UK is held at the University of Lancaster.
Professor Stephen Wildman, from the Ruskin Library and Research Centre, said: "It isn't certain whether Ruskin ever saw the watercolour itself. However, he did urge the Vice-Chancellor of Oxford University to buy it in 1884.
"He would have known the subject from the engraving in Whitaker's History of Richmondshire (1821)."
Ruskin, an influential critic and artist, wrote of the area in Fors Clavigera, Letter 52, April 1875: "I do not know in all my own country, still less in France or Italy, a place more naturally divine, or a more priceless possession of true 'Holy Land'."
It is at some point following the publication of this work that Professor Wildman believes the viewpoint became known as Ruskin's View.
Engraved work
The watercolour was previously owned by Sir Donald Currie, a shipping magnate and major collector of Turner's works who, at various times, owned 57 of his watercolours and 14 of his oils.
It was exhibited at the Royal Academy in London as part of the exhibition Turner: The Great Watercolours between December 2000 - February 2001.
Ruskin owned an engraving of the work which he donated to the Ruskin School of Drawing at Oxford University in 1875. It was transferred to the Ashmolean Museum in about 1949.
A spokesperson for Bonhams said they expected the watercolour to fetch between £200,000 and £300,000.
Professor Wildman added: "Sadly, we have no purchase fund, so it would be quite impossible to consider pursuing anything like this, even if grant-giving bodies were generous, as a certain proportion of the cost has to be provided by the institution."