Two new Bishops are consecrated at York Minster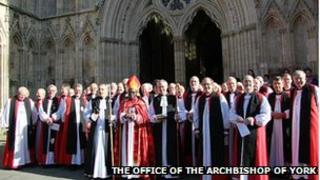 Two new Bishops have been consecrated by the Archbishop of York in a service at York Minster.
The Very Reverend Justin Welby has become the Bishop of Durham, while a former curate in Blackpool, the Venerable Robert John Freeman, is now the new Bishop of Penrith.
The service was led by The Archbishop of York, Dr John Sentamu.
The post of Bishop of Penrith had been empty since James Newcome became the Bishop of Carlisle in 2009.
Bishop Freeman had until recently been the Archdeacon of Halifax.
In the past he had been the chaplain to Blackpool Tower Circus and Winter Gardens, but has also served in inner-city Leicester and Chigwell in north-east London.
He said, ahead of the service: "I'm excited by it because it is a fantastic opportunity to serve God, the church and the people of Cumbria and to get to know them.
"I am slightly nervous and slightly daunted by the responsibility of it all."
He is married and has three daughters.
The new Bishop of Durham spent 11 years in the oil industry, but returned to study theology at St John's College in the city.
He has since worked in Nuneaton and Warwickshire before becoming Canon of Coventry Cathedral, and most recently the Dean of Liverpool.
He is married and has five children.