Carlisle College officially opens new £11m campus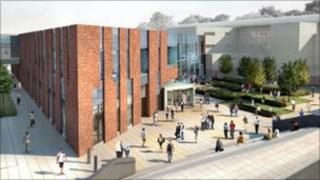 Carlisle College's city centre campus has officially re-opened after an £11m investment.
The Victoria Place development includes a catering kitchen, training restaurant and salons for beauty students.
The two-year project was scaled down following the collapse of a national college rebuilding fund.
Steve Salkeld, the college's assistant principal, said students expect colleges to have the same facilities found in the workplace.
He said: "If we can get our students better prepared for... work and give them the competitive edge in terms of seeking employment and gaining employment, it's a sound investment."
Two buildings from the 1950s and 1960s have been demolished to make way for the new two-storey structure.
Original plans for a £30m redevelopment plan had to be scaled back following funding problems at the Learning and Skills Council (LSC).
The Northwest Regional Development Agency and Cumbria County Council provided funds to allow the scaled-down project to go ahead.